Coma
Definition

A state of prolonged unconsciousness characterized by loss of reaction to external stimuli or, a state of unrousable unresponsiveness.

Differentiate from:

Stupor

Unconscious but can be aroused with repeated stimuli.

Delirium

Confused state often with restlessness and hallucinations.

'Locked-in' syndrome

actually conscious but unable to speak or move
may move eyes (massive brainstem damage)

Vegetative state

apparently awake but unresponsive (brainstem intact but widespread cortical damage)
may breath spontaneously.
The Reticular Activating System
Consciousness is determined by the reticular activating system

which is located in the brainstem
and its ascending connections
Coma is considered a medical emergency:
Keep the patient alive
Exclude obvious factors

head injuries
hypogylcaemia, etc.

Obtain history

eyewitnesses
medical information cards

Do general and neurological examination
Do appropriate investigations
Causes of Coma
Neurological

Lesions within the brainstem

affecting the reticular activating system

Lesions in other parts of the brain

compressing the brainstem

Traumatic Brain Injury

Diffuse brain injury
Extradural (epidural) haemorrhage

Haematoma – blood collection between the skull and the dura
This is due to trauma resulting in rupture of arteries or veins

commonly the middle meningeal artery

Treatment is to evacuate the haematoma by drilling a burr hole.

Subdural haemorrhage

The haematoma is between the arachnoid and the dura
They are due to rupture of the bridging veins between the cerebral cortex and the venous sinuses
Mid-line shift

Ipsilateral ventricle effaced

Acute or chronic

chronic subdural haematomas become isodense (darker appearance) 

Vascular (eg. stroke)

majority do not result in coma

large strokes can act as mass lesions

Infections (eg. encephalitis)
Intracranial tumours
Epilepsy/Post-Ictal states
Hypertensive encephalopathy

Toxic, metabolic, inflammatory or vascular conditions diffusely affecting the brain

Hypoxia, CO2 Narcosis
Drugs / Poisons
Hypoglycaemia, Hyperglycaemia
Hepatic Encephalopathy
Electrolyte Abnormalities /Uraemia
Endocrine: Myxoedema, Addisonian
Liver Failure (portosystemic encephalopathy)
Types of coma
Coma due to mass lesions
Hematoma, large strokes ( a type of mass lesion)

compress brain tissue causing:

herniation of brain tissue from one compartment to another
Hypoglycaemic coma
Signs & Symptoms

blood glucose < 3.0 mmol/L
Sympathetic:

sweating
tremors
palpitations
anxiety

Neuroglycopenia

confusion
abnormal behaviour
coma
death

Causes

oral hypoglycaemic agent/insulin in treatment of diabetes

Give glucose immediately
IV if patient drowsy or unconscious

Whipple's Triad
Symptoms known or likely to be caused by hypoglycemia
A low plasma glucose measured at the time of the symptoms
Relief of symptoms when the glucose is raised to normal
Hyperglycaemic comas
There are two types of hyperglycaemic comas in diabetes:

Diabetic Ketoacidosis (DKA)
Hyperosmolar Hypergylcaemic Non-Ketotic Coma (HHNC)

Type 2 diabetes
The new term is: HHS or Hyperosmolar Hyperglycaemic State. However only about 20% of HHS have coma
Drugs & Coma
Drug overdose may be accidental or intentional
Diagnosis

History important
Suspect if

IV needle marks
pin-point pupils
Liver Failure (Portosystemic Encephalopathy)
In liver failure

there is accumulation of ammonia in the systemic circulation
leading to coma

It may occur in

Acute liver failure

acute fulminant hepatitis
paracetamol overdose

Chronic liver disease

alcoholics
chronic hepatitis B, C

Specific signs to look for

Early

Drowsiness
confusion
altered sleep pattern
fetor hepaticus
Asterixis
constructional apraxia

loss of the ability to execute or carry out learned purposeful movements
despite having the desire and the physical ability to perform the movements
disorder of motor planning

Late
CNS infection & Coma
Serious Infections

Encephalitis
Meningitis
Brain abscess

Suspect if

fever
headache
progressive drowsiness
fits prior to coma
Physical signs of neck stiffness
Papilloedema

may be present indicating raised intracranial pressure
_____________________________________________________________________
Postures found in comatose status
*Refer posture and balance lecture
Decerebrate Posture
Brainstem Injury

Extension of arms with internal rotation
Pronation of wrists and flexion of fingers
Legs extended with plantar flexion of feet
Decorticate Posture
Lesions above brainstem

Arms adducted and flexed across the chest
Wrist and fingers flexed
Legs extended with plantar flexion of feet
_____________________________________________________________________
Glasgow Coma Scale
Measure consciousness
Based on 3 clinical responses: (EVM)

Eye Opening
Verbal Response
Motor Response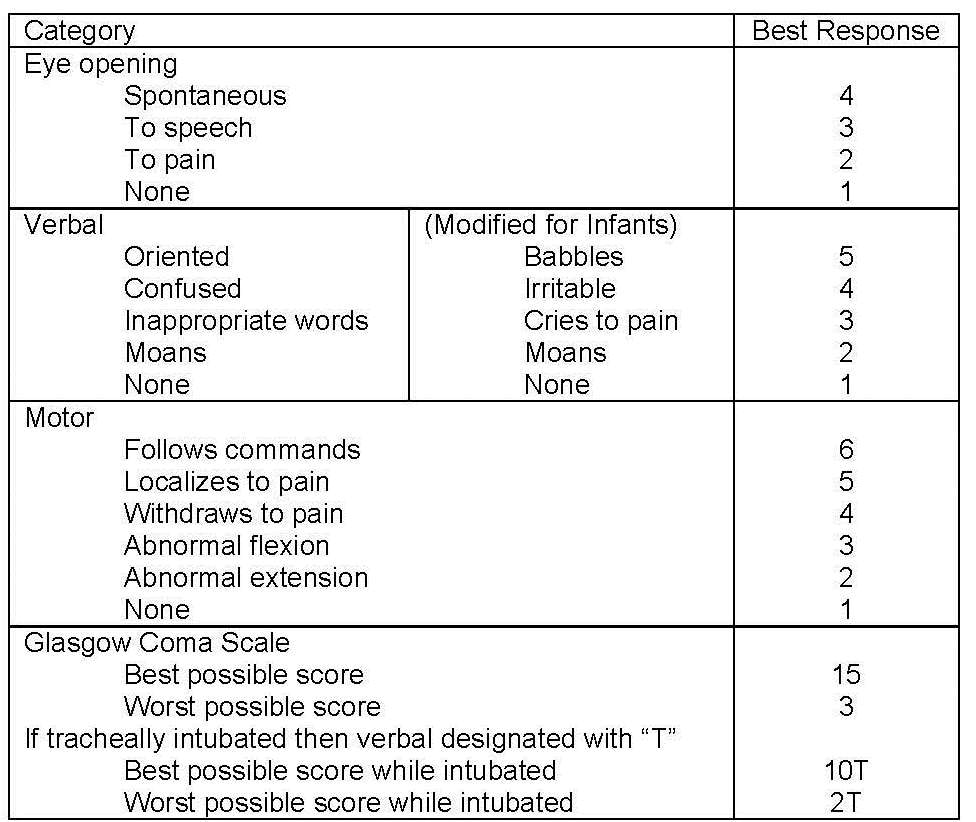 Record the best response

Minimum Score 3
Maximum Score 15

Chart initial and subsequent scores
The GCS record is the patient's change in conscious level with time.
_____________________________________________________________________
Brain death
Definition

A condition in which there is:

Permanent and irreversible loss of the functions of the brain
together with irreversible loss of the capacity to breathe

This person is supported by:

Artificial mechanical ventilation
Other supportive measures

A person certified to be brain dead is considered to be legally dead
Criteria

Coma
No spontaneous respiration
No response to external stimulation
Absence of brainstem reflexes

Ethical issues

Medicolegal

who has the right to determine who should be kept alive by life support?

Beneficence

the duty of the doctor to do good

Justice

How is it justified?
How is healthcare distributed under circumstances of limited human and financial resources and who / how determines
'who gets what'?

Dignity

Everyone has a right to a dignified death

Autonomy

What would the patient have wanted?

Many countries now have legal and medical definitions for brain death:

The patient is in apnoeic coma on a ventilator
There is evidence of a significant medical or CNS event that would result in brain death
Formal tests of brainstem function confirm absent brainstem reflexes

Before diagnosing brainstem death exclude:

Hypothermia (T<35°C)
Drug Intoxication
Acid-Base Imbalance
Electrolyte Abnormality
Hypoglycaemia/Endocrine Disorder

Tests of brainstem death:

No pupillary response to light
No oculocephalic reflex
No vestibulo-ocular reflex
No motor response within cranial nerve distribution

No corneal reflex/gag reflex/grimacing to painful stimulus

No cough response to pharyngeal/laryngeal/tracheal stimulation
Apnoea with no respiratory effort when ventilator is switched off & PaCo2 rises to above 6.7kPa (50mmHg)

Tests of brainstem death must be done twice at least 6-24 hours apart

Tests must be done independently by 2 different senior doctors, one of whom must not be in the medical team managing the patient
EEG is not routinely required

Once the diagnosis is established, inform the next-of-kin and explain the diagnosis

Allow adequate time for the family to understand and discuss the issue amongst themselves
Informed consent must be obtained before withdrawing life support
In suitable cases discuss and obtain informed consent from next-of-kin for organ donation

Members of the surgical transplant team and the medical team looking after the potential recipient should not be involved in certification of brain death of the donor and in counselling / obtaining consent from the donor's next-of-kin regarding organ transplantation