Types of movements
Unintentional – involuntary
Intentional – voluntary
Purpose of movements
Protection/maintenance of posture
To execute a voluntary movement in response to a thought/ idea or external stimulus [ from eyes, ears, touch, etc]
Posture provides background for movement
Movement starts with one posture and ends with another
Coordination before and after movement
Initiation & coordination of movement is carried out by a complex system of

hierarchical control
feedbacks
continuous adjustment

Eg. Walking

left upper limb coordinated with right lower limb
Servo systems
No control system
Feedforward system
Feedback system
Scheme of motor movement
Idea

eg. i want to touch my toes

Planning & programming

Cerebral cortex (Cortical association areas)

plans and execute movement

Basal ganglia
Lateral cerebellum

Thalamus
Premotor & motor cortex

Pyramidal system
Extrapyramidal system

Rubospinal
Reticulospinal
Tectospinal
Vestibulospinal

Alpha motor neuron (lower motor neuron)
Execution
Monitoring
Feedback

back to premotor & motor cortex
_____________________________________________________________________
The basal ganglia
Responsible for planning and programming of movements.
Disorders of movements
Hyperkinetic

Chorea
Athetosis

slow and writhing
like a snake dance

Ballism

ballistic!
hemiballism

resulting from the destruction of subthalamic nuclei on the same side

Hypokinetic

Akinesia

inability to initiate movement due to difficulty selecting and/or activating motor programs in the central nervous system

Bradykinesia

slowness of movement and has been linked to Parkinson's disease and other disorders of the basal ganglia
Related structures of basal ganglia
Corpus striatum

Striatum (neostriatum)

caudate nucleus
putamen
nucleus accumbens

Globus pallidus (pallidum/paleopallidum)

medial (internal) segment
lateral (external) segment
ventral pallidum

Substantia nigra

pars compacta
pars reticularis

Subthalamic nuclei
Ventral tegmental area
Different pathways
Nigrostriatal dopaminergic pathway

dopamine releasing neurones going from Substatia nigra to the putamen (striatum)
degeneration of this pathway –> Parkinsonism

Intrastriatal cholinergic system

loss in Huntington's disease

GABA-ergic neurons from striatum to globus pallidus (external) and Substantia Nigra

loss in Huntington's disease
Parkinsonism
disorder of the extrapyramidal system, that is, the motor structures in the basal ganglia

may be caused by degeneration of dopamine-producing cells in the substantia nigra, resulting in decreased levels of dopamine in the striatum

Pathogenesis

loss of dopamine and dopamine receptors

normal aging process
however accelerated in Parkinson's disease

loss of balance between cholinergic (exci
tatory) and dopaminergic (inhibitory) discharge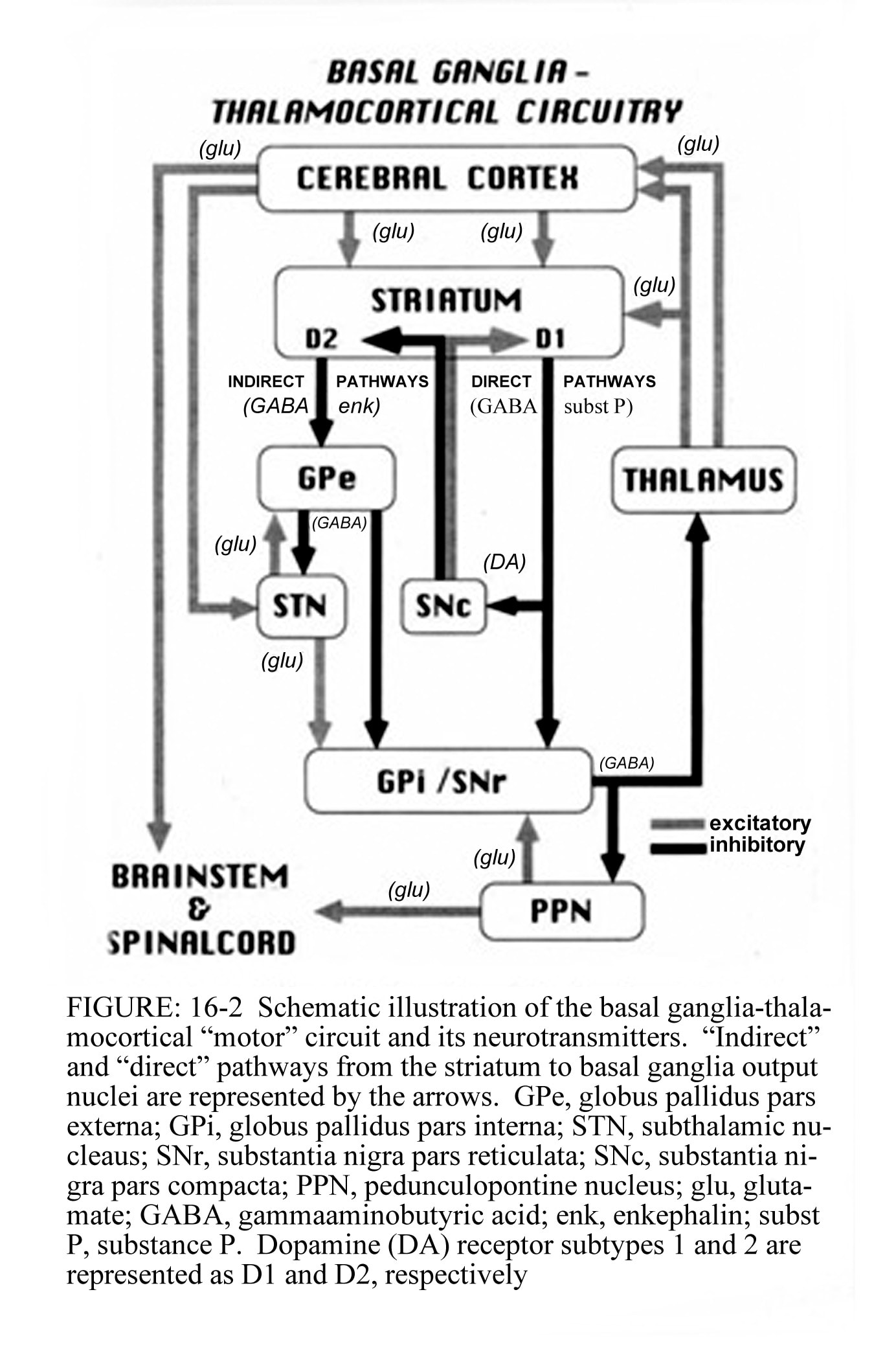 Pathophysiology of Parkinsonism
Refer diagrams above
Normally,
The cerebral cortex plans and programs the movement
Then signals the striatum to secrete dopamine (1 and 2)
2 pathways

Direct pathway

cortex→striatum→GPi→thalamus→cortex
outflow from striatum
directly inhibits GPi and Substantia nigra (SNr)

GPi usually inhibits thalamus
So if GPi is inhibited, so there is no longer inhibition of the thalamus (disinhibition) –> stimulate thalamus

sends inhibitory output to the ventral lateral (VL) nucleus of the thalamus

stimulate THALAMUS
excites cortex

initiate movement

In parkinson's: opposite of everything
Difficulty in initiating movement

Indirect pathway

cortex→striatum→GPe→STN→GPi→thalamus→cortex
inhibit GPe and Subthalamic nucleus
excites GPi

further inhibit the thalamus

inhibit thalamus
supresses involuntary movement

In parkinson's: opposite of everything
Increases involuntary movement
Clinical features of Parkinson's disease
Hypokinetic features (pallidectomy is beneficial)

akinesia

difficulty in initiating movements

bradykinesia

slow performance of voluntary movement
eg shuffling gait

hypokinesia

difficulty in initiating continuous movement

inability to execute simultaneous movement
Hypomimia/ defective kinetic automatism / masked facies

loss of associated movements
eg facial expressions, unconscious movements (swinging of arms), gestures, fidgety actions

festinating gait

bends lightly forward and walks with short quite step

swallowing & speaking difficulties

Hyperkinetic features

rigidity
tremor at rest
loss of braking action

can't stop himself when pushed
Test for Parkinsonism
Observe

masked facies (loss of facial expression)
loss of associated movements (swinging of arms when walking)
shuffling gait
pin-rolling movements

Test for rigidity

lead pipe rigidity/ cogwheel rigidity

Push him

can he brake himself?
be sure to have someone catch him when he falls
_____________________________________________________________________
Cerebellum
Planning execution of movement
Learning of skilled motor tasks
Receives afferent from:

labyrinths

through vestibulocerebellar pathway
to maintain balance

Proprioceptors and enteroceptors

through spinocerebellar pathway
postural control
feedback during movement

Proprioceptors from head and neck

through cuneocerebellar pathway

Proprioceptors from whole body

through olivocerebellar pathway

Ear and eye

through tectocerebellar pathway

Cerebral cortex

through pontocerebellar pathway

-> goes to spinocerebellum

medial and lateral descending systems

Sends efferents to:

lateral cerebellum (cerebrocerebellum)

motor & premotor cortex
vesticular nuclei

vesticulocerebellum
Cerebellar dysfunction
May show no abnormality at rest
Ataxia (with movement)

errors in rate, force, range and direction in movement

Defect in skilled movement

slurred/scanned speech
Dysmetria (past-pointing)
Intentional tremors
Adiadochokinesia

an inability to perform rapidly alternating movements, such as pronation and supination or flexion and extension

Decomposition of movement

movements dissected like a puppet
Tests for cerebellar dysfunction
Speak to the patient
Observe
Walk to straight line
Finger-nose test
Supinate and pronate hands quickly
heel-to-knee (or to shin) test

heel cannot slide down shin in a straight line
Differentiating atax
ia – sensory or motor.
Rhomberg's test

stand with feet together, hands at the side
Sensory ataxia

eyes open – steady
eyes closed – unsteady

Motor ataxia

eyes open – unsteady
eyes closed – unsteady
(RHOMBERG'S SIGN +VE)